Stressless Four categories of leather, in a selection of beautiful colors
Ekornes® is one of Europe's major users of upholstery leather. The hides are bought from leading tanneries throughout the world. Our own inspectors are part of a rigorous selection process, which includes the most stringent international standards as a minimum requirement for quality control. You benefit from our experience of this process when you buy Stressless® and Ekornes® leather furniture.



Ekornes® offers four types of leathers - each in a full range of colors.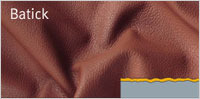 BATICK LEATHER COLORS - A corrected aniline-dyed, pigmented and grain-embossed upholstery leather, which has had most of its natural marks removed. The protective layer of lacquer allows spills to be easily removed. Easy to clean and attractively priced, Batick is a popular choice for those who want a more resilient leather. See Batick Leather Colors
CLASSIC LEATHER COLORS - A corrected aniline-dyed, pigmented and grain-embossed upholstery leather, but with a larger pebbled grain and thicker than Batick. Most of the natural marks are removed; however, some may still be slightly apparent. A protective layer of lacquer allows most types of spills to be easily removed. For this reason, Classic is a popular choice for many families. See Classic Leather Colors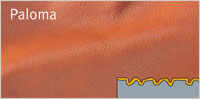 PALOMA LEATHER COLORS - An aniline-dyed upholstery leather with a combination of dyes and pigments in the finish. Paloma has a natural grain pattern with visible natural marks. The light finishing treatment improves the physical properties and provides a more uniform color. Paloma has been developed to produce a very soft, rich and friendly feel. The preferred choice of those who want a soft, authentic look in leather that breathes well. See Paloma Leather Colors
ROYALIN LEATHER COLORS - The heaviest and most exclusive Ekornes® leather type. Royalin is an aniline-dyed, upholstery leather with a natural pebbled grain with visible natural marks. A very light surface treatment has been added for protection. A natural leather that breathes well, it has a soft feel and a rich, warm glow. See Royalin Leather Colors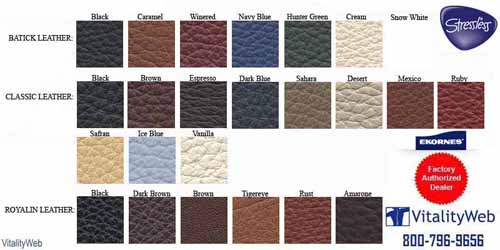 EKORNES® LEATHERS:
•All Stressless leather types and colors are through-dyed.
•Some colors have been enhanced with a two-tone effect.
•Color nuances are normal and to be expected.
•All Leather absorbs moisture and breathes.
•Color changes will occur with time, as a result of use and the effects of sunlight.
EKORNES® STRESSLESS LEATHER QUALITY
Leather is a beautiful and vibrant upholstery material. Ekornes® buys upholstery leather from leading tanneries from all over the world. The leather selection process, overseen by our own inspectors, implements the most stringent international quality control standards. Every piece of Stressless® and Ekornes® leather furniture reflects our distinguished taste for the finest leathers available.
STRESSLESS LEATHER UPHOLSTERY
Leather is a vibrant and beautiful upholstery material. The play of color in leather and its natural markings make each piece of furniture unique. Leather upholstery ages with style, acquiring a signature look that adds depth and character.
IMPORTANT INFORMATION IF YOU ARE BUYING LEATHER FURNITURE:
As leather is a natural product, color nuances are normal and may vary slightly from one product to another. The leather is sensitive to direct sunlight, stains and perspiration. Color change will occur with time, due to use and the effect of light. Marks left by scars and insect bites are natural features of this leather. Keep furniture protected from direct sunlight and heating sources.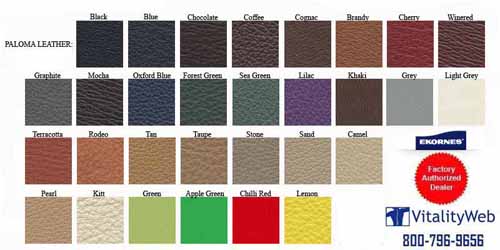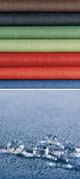 EKORNES® Fabrics with high durability and beautiful texture.
Ekornes fabrics are made from high quality materials that provide great durability. Whenever we choose a new fabric for Stressless® and Ekornes® Collection, they have to pass through extensive testing to comply with the strict Ekornes demands. Only the best textiles that can withstand "hard use" and "normal use" are accepted. For families with children we recommend "hard use".
EKORNES® FABRIC
Stressless® offers you a completely new feeling of comfort; four contemporary, warm and luxurious fabric collections that complement our range of four leather categories. Choose from Cocoon, Natura, Oasis, and Placidus ranges, all available in a wide range of colors, so you'll find the perfect match for any interior.
EKORNES® DINAMICA
Dinamica is a beautiful, timeless, comfortable and extremely durable textile. It is easy to clean and can be washed in machine at 60 degrees. Dinamica does not pill and is especially durable against light. Dinamica is manufactured in according to strict international demands for environmental friendly production.
The EKORNES® Stressless wood base
THE EKORNES® STRESSLESS® BASE is made from laminated European beech, a light colored wood with an attractive grain, exceptionally suitable for staining in various colors. Also, the strength of the wood makes beech furniture extremely durable.
Available in order to left -
Natural, Teak Stained, Cherry Stained, Brown Stained, Brown Stained, Mahogany Stained, Wenge Stained and Black Stained.